As announced
last month at EAA AirVenture Oshkosh
(
view press release
), the design maximum weight for the
STOL CH 750
has been increased from 1,320 lbs. (600 kg) to 1,440 lbs. (650 kg), an increase of 120 lbs. The increase adds significantly to the load carrying capability of this "sport utility" aircraft, and makes it feasible to install larger (up to 160-hp) and heavier (up to 280 lbs. installed weight) engines.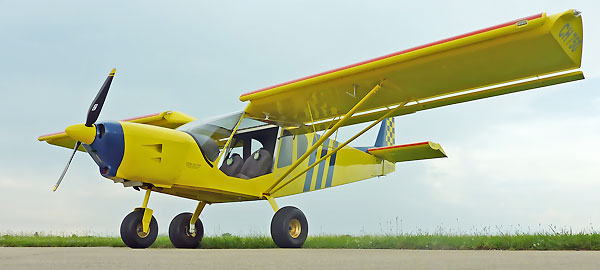 The design maximum weight increase is now standard on all new STOL CH 750 drawings (and kit shipments) Edition 2 (dated July 20, 2010).
While all
new
builders of the STOL CH 750 will automatically benefit from the increased load carrying capability, we've had many existing STOL CH 750 builders inquire about how it affects them and if the increased load carrying capability is available to them (as current builders).
First of all, to all of you who are operating (or plan to fly) your plane with a Sport Pilot certificate, your aircraft must
meet the definition
of an LSA (light-sport aircraft). Amateur-built (experimental) STOL CH 750 aircraft that will be operated by Sport Pilots must have a
maximum
gross takeoff weight of 1,320 lbs, (or 1,430 lbs for seaplanes) and must meet the other defining characteristics (or limits) of a Light-Sport Aircraft
since its original certification
. (For more on this: EAA maintains an easy-to-understand website about the Sport Pilot rule and Light-Sport Aircraft:
www.sportpilot.org
). Therefore, if you plan to fly your STOL CH 750 with a Sport Pilot certificate you
do not need
(or want?) a higher gross weight (and this also applies in other countries with corresponding Advanced Ultralight or similar categories).
To achieve the increased design maximum weight increase we've re-engineered and tested the main structural components for the higher loads. The good news is that we've been able to add 120 lbs. to the gross weight by adding just 10 lbs. to the structure (making it well worth it). The bad news (for current builders / owners) is that the additional weight is added to core structural members: The spar carry-through structure of the chrome-moly cabin frame has been beefed up for the higher loads, forward fuselage parts have been re-engineered (for heaver engine installations), and various additional gussets and stiffeners were added to the rear fuselage. While the basic wing design has not changed, the main spar doubler and attachment (where the wing strut joins the spar) were increased in thickness and size for the higher loads, and a rear spar doubler was added at the wing root.
Additionally, a number of "non structural" changes and updates have also been incorporated as part of the Edition 2 drawings introduction, mainly to make the kit easier and quicker to build. The fuselage side windows have been re-sized, and some additional routing holes (for wires and fuel lines) are supplied pre-drilled and cut in the kit (again, to make the kit easier to build).
We now have the 2nd Edition drawings (blueprints) available, reflecting the higher design max. weight. Current builders (owners of the 1st Edition drawings and kit) can choose to update to the 2nd Edition drawings, or can view the full list of updates. We have published full summaries of the drawings updates on the
Online Builder Resources
section of the
Zenith Aircraft Company website
: Scroll down to
STOL CH 750 Updates
and select
Drawings Updates
.
We have also just published the
first revision for the 1st Edition drawings
. This is a comprehensive revision with updates and corrections to the original STOL CH 750 (Edition 1) drawings (with the original gross weight). Current builders can view the full list of updates in Edition 1, Revision 1, or can also purchase the latest version of the Edition, Revision 1 drawings. Find the details the
Online Builder Resources
section of the
Zenith Aircraft Company website
: Scroll down to
STOL CH 750 Updates
and select
Drawings Updates
.
Since announcing the available gross weight increase incorporated in Edition 2, several original STOL CH 750 builders have inquired about the availability of the Edition 2 updates for their Edition 1 kit. While we always strive to make new updates or changes retroactive (with the ability to incorporate them in existing projects or completed airplanes) this is not always practical or easy to accomplish.
Following is some additional information in response to common questions:
Unless specified otherwise, all parts and kits (since July 26, 2010) being shipped are for Edition 2. If you have already started building the STOL CH 750 (Edition 1) then it will remain Edition 1 unless you update all your parts per Edition 2 drawing. Note that the tail sections have not changed, nor have the leading edge slats and flaperons.
For those existing builders that want to build for the higher design weight (outside the LSA definition and to accommodate larger engines) we offer a STOL CH 750 "Gross Weight Increase" (Edition 2) kit. This is exclusively for existing builders who want to increase the load carrying capability of their STOL CH 750 (Edition 1).

A note about product updates:
In the electronics or automotive industry we've come to expect changes (updates or improvements) on a regular basis. Many electronic gadgets are virtually obsolete by the time they're available on the mass market, and new car models are introduced every year as "new and improved" over the previous model year.
As a kit aircraft manufacturer, anytime we offer design updates to an existing kit design, current builders and owners (of the original) seem to resist or view this "progress" as a negative since it may impact the "newness" of their current project.
One of the inherent advantages of the kit ("experimental") industry is its ability to continuously improve its products (without the major hurdle of FAA certification for every new improvement). As such, we want to be able to continuously improve upon the products that we currently offer (as well as to develop new ones) and ask current builders to welcome this innovation. We always strive to make updates and/or new features available to current builders, even if their kit or project is several years old.