Join us at Oshkosh AirVenture and be a part of the One Week Wonder project airplane as we build a Zenith CH 750 Cruzer during the seven day fly-in convention.  View Map
This year will be our biggest year ever at Oshkosh with the return of the One Week Wonder project. 
We hope that many of you are able to join us!  
We have a challenging and exciting week ahead of us as we work to build a Zenith CH 750 Cruzer in one week in front of the entire aviation community. This will be the biggest opportunity, ever, to promote homebuilding at AirVenture!
We will kick off the project at 8:00 a.m. sharp on Monday, July 28, with EAA's Jack Pelton starting the countdown timer. We invite you to be there for the start of the project!
EAA has erected a large tent where the project will be constructed right on EAA Square (corner of Celebration Way and Knapp Street Road across from EAA Welcome Center), providing an excellent facility to build the airplane, located right in the center of the EAA convention grounds! View Map.
Many of you have already signed up as volunteer builders on this project, and we look forward to seeing many more of you at Oshkosh!  Stop by the One Week Wonder project and pull a rivet.  By doing so, you will get a One Week Wonder pin, be entered in the World's Largest Builders Log, and receive a photo via email for sharing!
We'll be working on the project throughout the entire week, and if all goes as planned, we will taxi the aircraft on Sunday at approximately 3:00 p.m. (right before the Thunderbirds perform).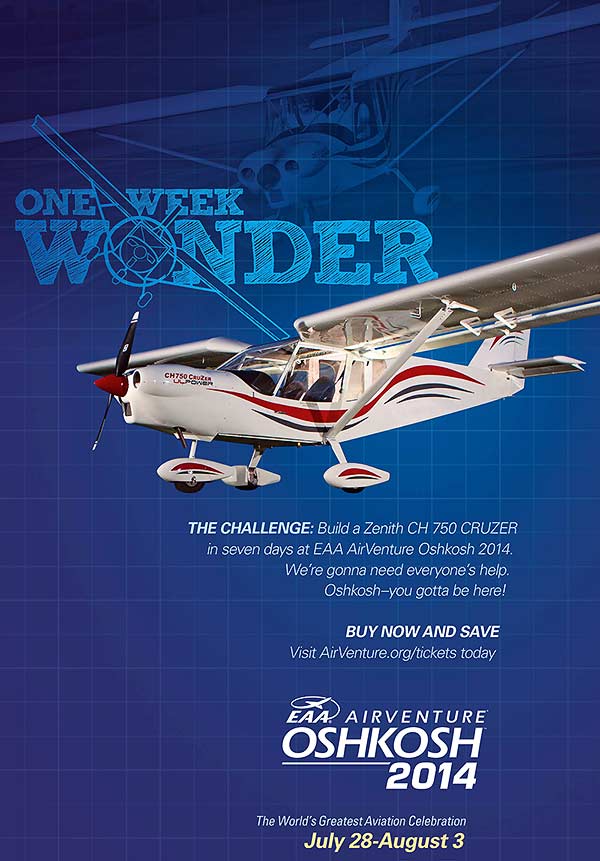 More info on this historic event and how you can be a part of it.
Also, be sure to visit the Zenith Aircraft Booth in the North Aircraft Display Area #641 (same as last year) to see the planes and visit with the Zenith staff (and fellow Zenith builders!).
Oshkosh 2014 Preview (more events and activities)